Sendcash Virtual Accounts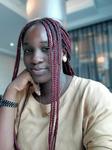 Updated by Vanessa
If you stay in Nigeria and are looking for a means to receive wire transfers from the United States conveniently, then our USD account is for you. 
With a Sendcash USD account, you can receive wire transfers from friends, family, and employers in the United States without hassle. 
Here's how to create a USD account on Sendcash:
1. Login to your Sendcash account and tap on "Receive"
If you have an existing Buycoins account you can use the same login details. If not, you can register as a new user on Sendcash.
2. Click on "Create virtual account" to get your USD account
3. Verify your Identity to proceed
You can use any valid ID of yours: NIN, Driver's license or Voter's card. You may be required to take a selfie, holding up your ID so we can verify that it is you.
4. Share your USD account details
That's it. You will receive your money once the sender's transaction is completed. Kindly note that there is a 1% fee on receiving wire transfers.